Expanding our global footprint
Over the past three years, St Andrew's has grown its Global Learning Program to include many opportunities for service, experiential learning and staff and student exchanges. The College has identified the importance of our students being able to thrive in a cross-cultural environment and has worked hard to equip students through College-based activities as well as overseas opportunities.  As we continue to carry out the College's strategic intent of allowing our students to move confidently into their futures, building both cultural awareness and global perspectives are increasingly important skills for our students to have.
Over the recent September break, 70 of our staff and students were involved in some fantastic global learning opportunities. The program goals for these trips included:
●            Develop students' intercultural understanding (Cultural Intelligence)
●            Develop an awareness of social justice issues and responsibility
●            Engage in social justice efforts and community service
●            Understand the cultural, political and environmental influences which shape lives
●            Develop a global mindset and establish global connections
●            Develop knowledge, skills, and values from direct experiences outside a traditional academic setting
Below is an outline of the programs as well as some links for you to learn more, especially if you are considering a trip for your child in 2018 and beyond. (Please note that the videos are unlisted).
Thailand (Year 8)
This trip involved students visiting Chiang Mai for various cultural experiences, including visits to temples, historic sites, a sustainable elephant sanctuary and local markets.  The team then travelled to Maekok Outdoor Education Centre, where they taught English in a local school, did some labouring work to help build a school for the disabled and partook in a traditional Thai cooking class. Video - https://youtu.be/E7OwnDXWIbY Blog - https://gothailand2017.wordpress.com/ 
Cambodia (Year 10-12)
The students spent time in Phnom Penh visiting the Killing Fields and Toul Sleng Prison (S21), local NGO's and the local markets. The team then spent the majority of their time working with our partner organisation, Raw Impact (http://rawimpact.org/ ), where they joined their project team in building a bamboo house for a displaced family and a sustainable garden for another.  The trip finished in Siem Reap, where the team visited the magnificent Angkor Wat Temples. Video - https://youtu.be/x5oYl1ZX8FQ Blog - https://saaccambodia2017.blogspot.com.au/ 
Japan Student Exchange (Year 11)
Harry and Amber spent four weeks in Japan as part of a scholarship program funded by Lexis English. The students had an amazing time in and around Kobe and Osaka and attended Kindai High School. As you can see in the video, they had a wide range of cultural experiences and made some lifelong friends. We look forward to welcoming two students from Kindai High School to St Andrew's for Term 1 of 2018 (please see notice in bulletin about homestay opportunities). Video - https://youtu.be/SgaldKbNPk4
Nepal (Year 12)
A 17-day Trek to Everest Base Camp. Their route took them to some of the prettiest Sherpa villages and to Namche bazaar which is the colourful and vibrant heart of Sherpa country. The mountain scenery was stunning with a range of the classic peaks visible along the trail including Everest, Lhotse, Nuptse, Ama Dablam, Kang Tega, Thamserku and Pumori. The high points of their itinerary was the climb to Kala Patar for the classic views of Everest and the hike from Gorakshep up the Khumbu glacier to Everest base camp, The program was co-ordinated and run by experienced guides from Nepal Sanctuary Treks along with St Andrew's Staff. Video - https://youtu.be/RWtyRESt0RU
Japan Staff Exchange
Mr Jonathan Harding spent three weeks in Japan as part of a reciprocal staff exchange with our partner school, Kindai High. Please read his reflections on his time in Japan. Reflection – https://drive.google.com/open?id=0BwH-c_4YasIddXNXVlFyTjJCS1k
In Week 5 we will release the information and applications for the 2018 trips. This will include cost, timings and itineraries. We understand that these opportunities come at a large expense so, in order to give some forewarning, we have mapped out the trips for the next few years as a guide.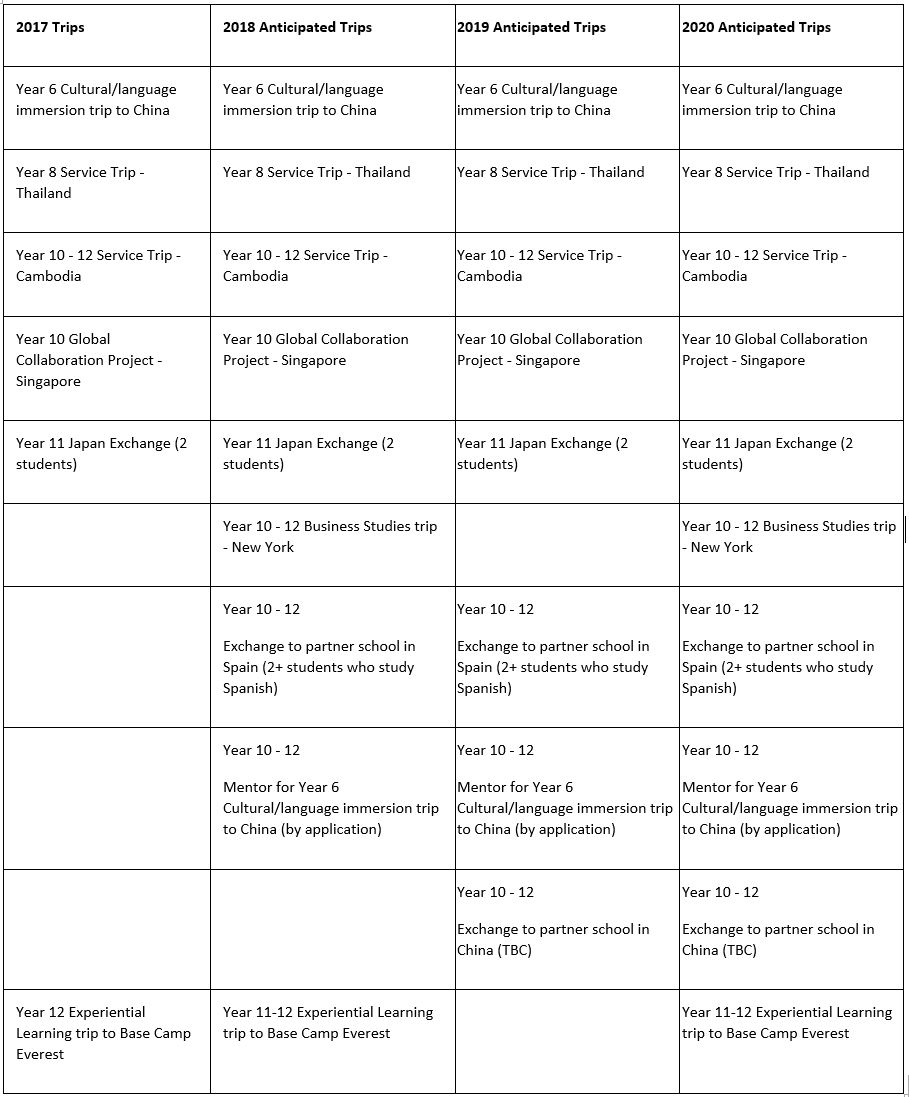 The student quotes in the blogs above reveal the positive impact that these trips have on their view of the world and their place in it. Therefore, I highly commend these programs to you. If you have any questions about the 2018 trips then please feel free to email me.
Regards,
Tim Barrett
HEAD OF GLOBAL LEARNING
DIRECTOR, SAIL (Partnerships)